Wearing the perfect outfit on your birthday is no less important than planning for the entire day. Throughout the day, you will be around with your family, friends, loved ones, and many more people. They all would want you to take a picture with them. So, you must make sure you put the right impression all the time.

Whether you are going to celebrate the day by throwing a big party or just hanging out with friends and loved ones, I have quite a few outfit suggestions for you to look great be it on photos or when you are to meet people.
What Things Do You Need to Know Before Choosing Birthday Outfits for Men
People highly differ when it comes to their taste, choice, style, and other aspects. Men's birthday outfit is no exception here as well. Still, to make you prepare for the day, here as a few suggestions for your birthday fashion.
Understand What the Day Demands
Not everyone will be able to take leave from work because of his birthday. A college or university going student will still have to attend classes during the day. So, depending on how you are going to spend the day, wisely choose your outfit. Don't wear anything overwhelming that doesn't suit the environment you are in.
Different Outfits
You can try wearing multiple outfits on your birthday. If you have to go for shopping or class, wear anything casual yet stylish enough to give you satisfaction. When you are about to go out for lunch or dinner, wear something more special. For parties, make sure you look good and easily distinguishable from the other buddies.
Expensive Outfits isn't the Only Way
Don't need to spend much on clothes for your birthday. Spend on other things. You will be able to still look impressive with simple and inexpensive outfits if you pick the right combination of wearing.
15 Perfect Birthday Outfits for Men in 2021
Regardless of your choices, you will find the suitable outfit for the special day.
01. White Shirt and V-neck Sweater with Black Chinos
I listed this one in the first position because you don't go to the party or special events just after you wake up in the morning. During the first phase of the day, you may want to visit some of your friends, purchase essential items needed for the party or event, for such a case, nothing beats this outgoing outfit.

Wear a light color shirt that fits you well and dark-colored chinos, navy-blue will suit them best. Grab a pair of light-brown leather shoes as well. You can also wear a v-neck sweater to complement your appearance too. The level of satisfaction will make you feel extraordinary, and of course, it will feel quite comfortable as well.
02. Casual Shirt and Trouser with Espadrilles
Bring the best out of your simplistic appearance by adopting this outfit on your birthday. Colors and the perfect fitting are the key things of the appearance. You will be able to hold a casual appearance while making it a perfect outfit for photos as well as videos.
03. Colored Pattern T-shirt with Blue Jeans
Let your outfit talk for you. To make you look fresh and vibrant throughout the day to appear great in photos, consider wearing a striped or colored pattern T-shirt with blue jeans. Make sure you pick the perfect colors that suit where you are going. To make it complete, put on white sneakers. The outlook will make people ask 'is today a special day for you'?
04. Full Sleeve Black T-shirt with Black Denim
Whether it's for a night party, formal gathering, or celebrating the day at home with the loved ones, this sleek looking outfit will easily distinguish you from others be it in real life or photos.

Be a man in black wearing a black full-sleeve t-shirt, be it's a plain or graphic one, black or any dark-colored denim. Put on a jacket if the weather forces you to do so.

Even if you cannot decide which outfit to go with or don't have much time for shopping, this outfit can be the safest choice for the day.
You May Also Like: How Much Does A Pair of Jeans Weigh? [For Men & Women Both]
05. Turtleneck Sweater and Denim with Suede Boots
During winter, you need to make sure you don't feel uncomfortable wearing an outfit throughout the day. For winter birthday parties, a turtleneck sweater will keep you warm and make you look stylish at the same time. Dark color denim and suede boots will also compliment you greatly when you are with people.
06. Leather Jacket on a Simple T-shirt, Denim with Slip-on Sneakers
If you want to always look dashing, and even more on your birthdays, this outfit is one of the best that you can confidently go with.

Whether it's a college function, party, event, etc. a black jacket will suit pretty much every place. Wear it over a black or dark color t-shirt. Denim and slip-on sneakers will make you look more impressive in photos. You can also consider sunglasses.
07. White T-shirt and Blazer with Dark Jeans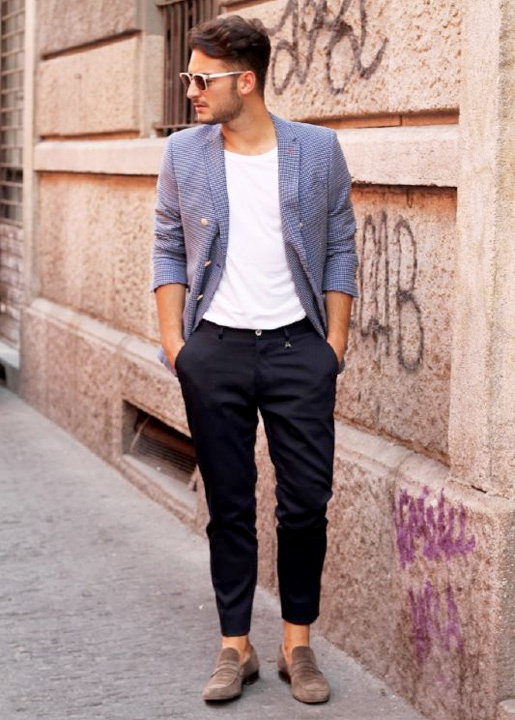 While winter makes it difficult to wear whatever you like, there are some weather-friendly outfits that look great on men regardless of occasions. So, when the weather is on your side, take advantage of it by wearing your favorite blazer or sports jacket. Also, wear a plain white t-shirt under the blazer. Jeans will look great with this, especially a black one.
08. Suit with Button-Front Shirt and Pant
If you are to throw a formal birthday party, consider it as a gesture of your birthday fashion. Wear the type of blazer that suits you well with a button-front shirt with a pant. Don't ruin your birthday looks wearing a tie with the outfit. Here, putting on loafers make more sense than classic shoes even though I'm talking about wearing it in a formal event. The outfit will get you more attention among the people.
09. Dark Suit, White Shirt with Oxford Shoes
For semi-formal birthday occasions, this is one of the good outfits for men. As a birthday guy, wearing a dark suit with a dress shirt will keep you well prepared for quick snaps. You can also wear a vest if you feel comfortable with it. It would be better if you wear a tie, don't wearing one will be fine as well.

Any dress shoes will go fine with this man's birthday outfit. Consider wearing dark socks with shoes to complement the look. Last but not least, must wear a belt, don't underestimate it.
10. Black Wool Blazer with Khaki Chinos
You probably have already imagined how you would look at this outfit. Over the shirt, you can wear a cardigan to make you look elegant. Don't forget to have a brown pocket square to complement the appearance.
11. Gray Wood Blazer with Black Dress Pants
Nothing beats the classy look that comes with wearing a grey wool blazer with black dress pants. Add more attention to this outfit wearing the blazer over a colored v-neck sweater. Navy or dark color tie will go perfect with it as well.
12. Navy Wool Suit with White Cardigan
If you are someone who pretty much leaves classy and elegant gestures on how you look, this combination can be an ideal men's birthday outfit for you. Wearing a navy wood suit over a white cardigan will make you look well polished and impressive all the way.

As far as the shoes are concerned, be sure to wear a pair of oxford shoes made of burgundy leather.
13. Charcoal Wood Suit with Crew-neck Sweater
If you want to be ready for the entire day whether it's about visiting friends, attending a party, and other events, you can also consider this outfit. It's indeed one of the stylish outfits for men on the list.

A dark color preferably black charcoal wool suit over a white color navy crew-neck makes you look perfect for pretty much all things that the day demands.
14. Brown Wool Blazer with Charcoal Jeans
This is one of my personal favorites on the list. If you are looking for a men's birthday outfit that will make you look stylish, and at the same time will hold a casual appearance on you, this is the one to go with.

Wear an off-white color crew-neck sweater and a brown wool blazer over it. Charcoal jeans just go perfect with this. Compliment your appearance with a pair of brown suede derby shoes. Even if you have to travel during the day, you are absolutely ready for everything that the day throws at you.
15. Charcoal Wood Blazer and Black Chinos
Last but not least, when it comes to wearing a perfect birthday outfit where causality and class meets, this is how you express yourself during your birthday. Both the charcoal wood blazer and black chinos will throw some serious impressions at people. You will look casual yet stylish to be ready for anything without waiting for too long.
You May Also Like: What Color Shoes to Wear with Navy Dress: 24 Opinions that Suit You
Conclusion
There are no universal birthday outfits for men. You can try different outfits each year depending on what the day requires you to do or what you are planning to do throughout the day. One thing is for sure, the perfect birthday outfit will make you ready for everything on this special day.